The main core of Thai street foods "Som Tum"
Som Tum or Green Papaya Salad is what makes Thai street foods very unique and vibrant. In almost every corner in Thailand, there's cart or stalls that are selling green papaya salad. It's one of the most favorable dishes and everyone loves it.
Green Papaya Salad Made with Lime-Fish Sauce, Vinaigrette, Garlic, Bird-Eye Chili, Tomatoes, Green Beans. All ingredients are pounded in a mortar and pestle.
But what makes Som Tum even more unique is that there's a different kind of papaya salad that you can mix and add the ingredient that suits your taste buds.
Let's get to know what are some of the popular Thai Green Papaya Salad.
1. Tum Thai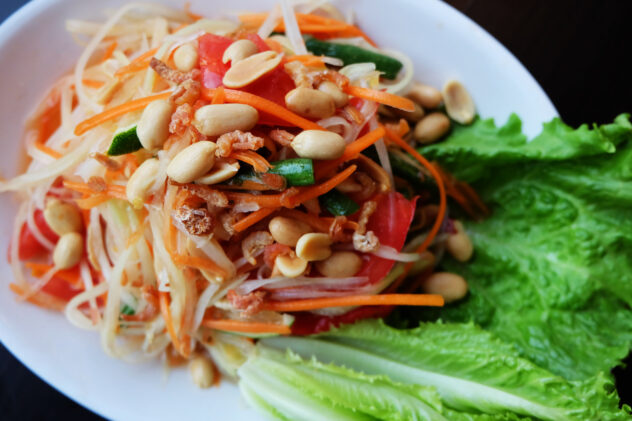 If you never have a Thai green papaya salad before, this considered to be a beginner dish that you could start with. Tum Thai is pounding together with basic ingredients of dried shrimp and peanuts. Tum Thai tends to be a little more sweet than others type, but it has a sour taste of lime and the spicy taste of birth-eye chills into it.
2. Tum Puu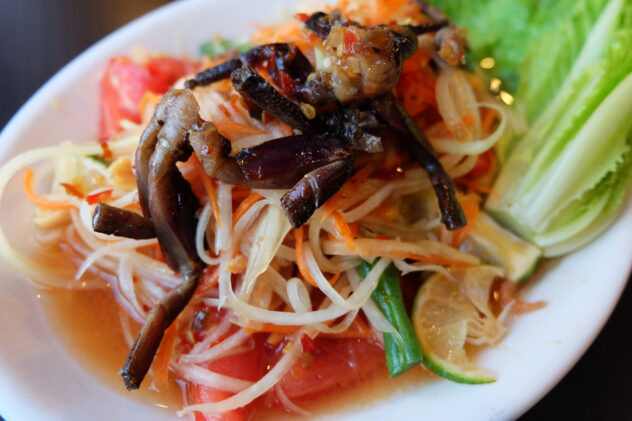 Tum Puu is a little different from Tum Thai. When I said different I mean it's got a little tad of funk, but that funky taste is very tasty. Tum Puu has a very unique taste and a mixed of many different flavors. The main ingredient of Tum Puu is preserved crabs, it's basically crabs, pickled and preserved in salt. Because the preserved crabs, it adds the salty taste into the dish, which make it different from Tum Thai. But it still has sour and spicy taste into it.
3. Tum puu plah rah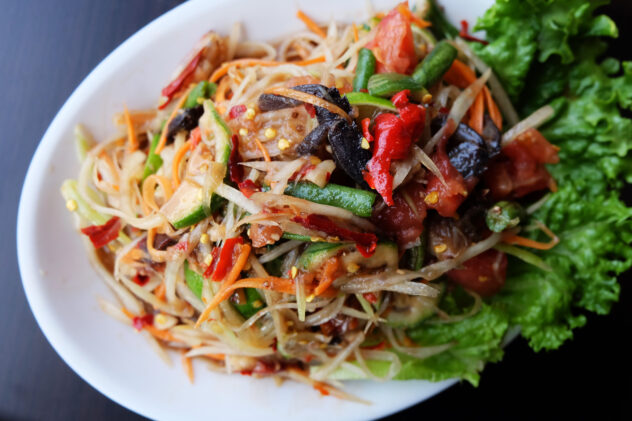 Step up from Tum Puu is Tum Puu Plah Rah. This type of papaya salad has it all. It tastes salty, funky, spicy, and sour. It's a perfect combination of everything in one dish. The two main ingredients in this green papaya salad are preserved crabs and fermented fish sauce. It's might smell and taste different from any others papaya salad, but that's what makes it so unique.
4.Tum Thai Khai Kem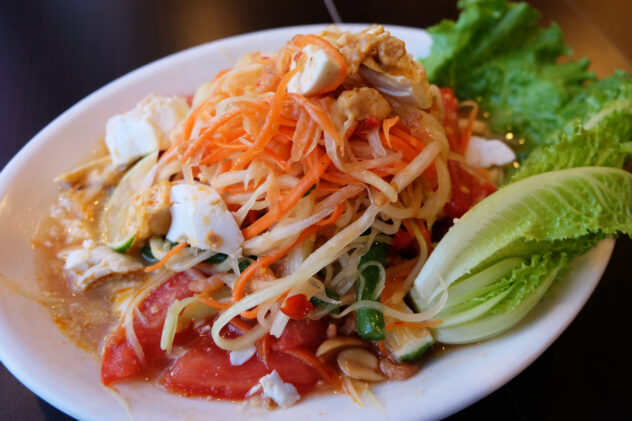 Tum Thai Kai Kem is basically Tum Thai with salted duck eggs on it. This is also a good combination, where the texture of eggs makes it more interesting. It's has a sweet taste of Tum Thai but also a little kick of salted duck eggs with it too.
With all types of green papaya salad, you can control how spicy you want it to be. Just let's the vendor knows, how many bird-eye chillies that you want in your salad. If you are not a big fan of spicy you can even ask for 0 or 1 chillies. Also, Thai Green Papaya Salad is very healthy and Gluten-free. If you're looking for a Thai dish that is healthy, Thai Green Papaya Salad might be yours to go choice!
At Immm, we offer all those 4 types of Thai Green Papaya Salad.
Just click order now!