KHAO RAD GANG
Thai Style Lunch Plate is a signature of Thai Street Food. It's basically a quick serve meal at the sit down dine-in at the vendors on the street in Thailand. Just simple dining area with tables and chairs set up for people to quickly eat their meal before heading back to work or go about their business.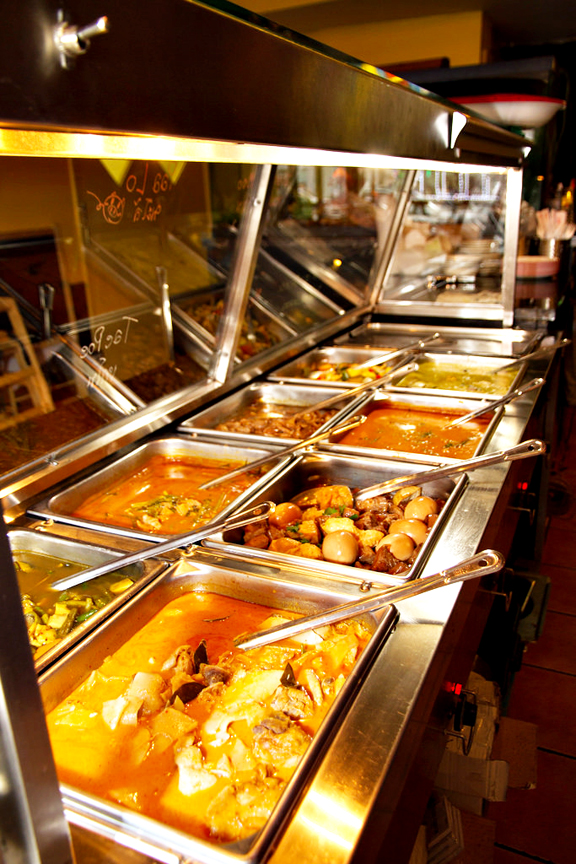 Khao Rad Gand

– the exact translation is "rice cover with curry".
What is Thai Lunch Plate exactly?
Thai Lunch Plate is known to be an entrée serve on top of rice usually up to 3 items. Food items are already prepared and will be at the hot bar for people to choose. Food items are not necessary curry, it's a mixed between curry and stir fry dishes.
Khao Rad Gang is the best meal deal and the most popular choice during lunch break cause they could get a several things on their plate and it fills them up pretty good.
How Does It Works?
1). Choose your plate – How many items do you want
2). Choose your base – Between white rice and brown rice. Some vendors also have a thin rice noodle as an option as well, usually go together with curry.
3). Choose your food items – Food items that you want it serves on top of the rice.
As simple as it sounds, you can enjoy this quick lunch at the reasonable price. At Immm Rice & Beyond, we want you guys to get the best Thai street food experience. We serve special Thai lunch plate (Khao Rad Gang) from 11:30am – 3:00pm every day (Restaurant close every Tuesday).
Check out what Thai Lunch Plate is all about at Immm Rice & Beyond 4949 N Broadway, Chicago, IL